Description
Details
Sony DT 18-55mm f/3.5-5.6 Zoom Lens + Opteka 3 Piece High Definition II Pro Filter Kit ( UV, PL, FLD )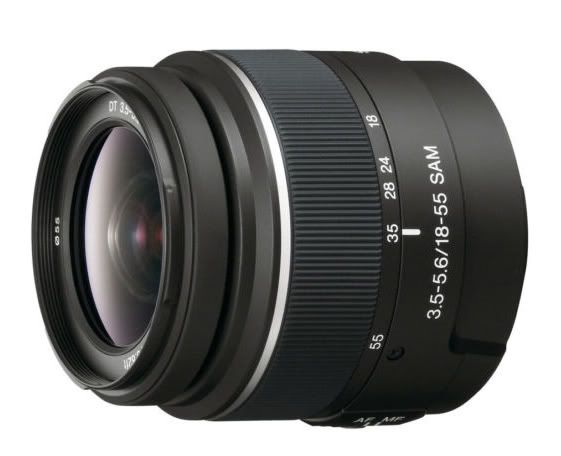 This solid, all-purpose SAL-1855 standard zoom lens is excellent for snapshots, portraits, interiors and more. Built specifically for your α DSLR camera, it features a smooth and silent AF operation with built-in Smooth Autofocus Motor (SAM) to handle the full range of your most common shots. In 35mm equivalent, it covers wide-angle 27mm to 82.5mm midrange. Please note: DT lenses are not recommended for use with the DSLR-A900.
Dimensions (Approx.) : 2-3/4" x 2-3/4" (69.5?69mm)
Weight (Approx.) : 7.4 oz (210g)
Focus System : Front focus SAM (Smooth AF motor)
Aperture (Max.) : f/3.5 - 5.6
Aperture (Min.) : f/22 - 36
Filter Diameter : 55mm
Lens Groups-Elements : 8 elements, 7 groups
Minimum Focus Distance : 0.82ft (0.25m)
Aspheric Elements : 2
Aperture Blade : 7 blades (Circular aperture)
Focal Length (35mm equivalent) : APS-C 35mm eqv. 27mm to 82.5mm
Lens Weight : 7.4 oz (210g)
Brand New - Removed from camera kit
Opteka 55mm 3 Piece High Definition II Pro Filter Kit ( UV, PL, FLD )

Advances in low-dispersion optical glass and exotic anti-reflection coatings, along with the latest in computer-aided manufacturing are combined to produce lenses of unprecedented quality. Rather than raising the cost of Opteka filters however, these advanced materials and techniques allow more efficient and economical production. The results are lenses of remarkable quality and durability at remarkably affordable prices.
Your pictures are only as good as the glass in your lens.
Nothing changes the way you see the world like High Definition² and no company does High Definition² like Opteka. Opteka's glass optics define High Definition. Change the way you view the world. Enjoy outstanding detail, enjoy enhanced clarity, enjoy Opteka.
• UV Filter
A must for any camera. Penetrates haze, adds warmth, and protects your valuable lens from scratches, dirt, fingerprints, etc. Leave it on your lens at all times.
• Polarizing Filter
For shooting in bright sun, at beaches, snow, etc. Controls bright light entering lenses for a better balanced color image. Darkens blue skies and reduces reflections from non-metallic surfaces.
• Fluorescent Filter
Reduces the greenish cast common to fluorescent lighting and produces pleasing, natural results, particularly in flesh tones.
| | |
| --- | --- |
| • | Carrying Case Included |
| • | Brand new, Lifetime Warranty |
Additional Info
Additional Info
| | |
| --- | --- |
| Brand | Sony |
| Name | Sony SAL-1855 DT 18-55mm f/3.5-5.6 Zoom Lens Kit |
| SKU | SON-18-55-3PCFILKIT |
| Price | $120.00 |
Reviews