Description
Details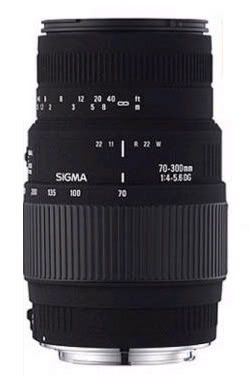 Brand New, 1 Year Sigma USA Warranty
Telephoto zoom lenses with excellent cost performance and optimized for use with digital SLR cameras.
Capable of macro photography, this lens has a 1:2 maximum close-up magnification at the 300 mm focal length. ItÂ's the ideal high performance lens for portraits, sports photography, nature photography, and other types of photography that frequently use the telephoto range. It also has a switch for changeover to macro photography at focal lengths between 200mm and 300mm with a maximum close-up magnification from 1:2.9 to 1:2.SLD (Special Low Dispersion) glass in this lens provides excellent correction of chromatic aberration.
New coating reduces Ghost and Flare
The new multi layer lens coating and lens design reduce flare and ghost, which is a common problem with digital cameras and also creates an optimum color balance through the entire zoom range.
SLD (Special Low Dispersion) glass
Sigma incorporated SLD (Special Low Dispersion) glass in this lens for excellent correction of chromatic aberration. This also corrects for fluctuation of aberration due to focusing. High optical performance is demonstrated throughout the entire zoom range.
Macro shooting with maximum magnification 1:2
It is capable of macro photography with a 1:2 maximum close-up magnification at the 300mm focal length. The minimum focusing distance is 1.5 m/59 inches at all zoom settings. It also has a switch for changeover to macro photography at focal lengths between 200mm and 300mm with a maximum close-up magnification from 1:2.9 to 1:2 and a minimum focusing distance of 95cm (37.4 inches). Without changing the distance between camera and subject, you can change the shooting magnification.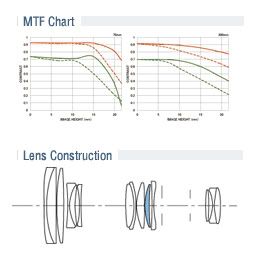 Lens Construction

14 Elements in 10 Groups

Angle of View

34.3° - 8.2°7

Number of Diaphragm Blades

9 Blades

Minimum Aperture

F22

Minimum Focusing Distance

150cm / (95cm Macro mode), 59.1 in / (37.4 in. Macro mode)

Maximum Magnification

1:4.1 / 1:2(Macro mode)

Filter Size Diameter

58mm

Dimensions Diameter
76.6mm X Length 122mm
3.0 in. X 4.8 in.
Weight

545g / 19.2 oz.
Includes: Sigma Zoom Telephoto 70-300mm f/4-5.6 DG Macro Autofocus Lens, Box, Hood, Caps, Manual, 1 Year Sigma USA Warranty.
7 Year Lens Warranty Extension
This warranty covers all parts and labor for seven (7) years from date of purchase. This limited warranty applies only to the lens registered. The equipment will be guaranteed to operate properly according to manufacturer's specifications or we shall repair equipment to operate properly at no charge to you. This warranty does not cover equipment which has been misused, tampered with, modified or damaged as a result of accident, liquid, grit, impact or lack of proper care as indicated in the manual of operations. Accessories not covered: lens cap, rear caps, filters, or other expenses or consequential damages. This limited warranty is transferable on listed equipment for a $20.00 fee.
Advances in low-dispersion optical glass and exotic anti-reflection coatings, along with the latest in computer-aided manufacturing are combined to produce lenses of unprecedented quality. Rather than raising the cost of Opteka filters however, these advanced materials and techniques allow more efficient and economical production. The results are lenses of remarkable quality and durability at remarkably affordable prices.
Your pictures are only as good as the glass in your lens.
Nothing changes the way you see the world like High Definition² and no company does High Definition² like Opteka. Opteka's glass optics define High Definition. Change the way you view the world. Enjoy outstanding detail, enjoy enhanced clarity, enjoy Opteka.
•

UV Filter

A must for any camera. Penetrates haze, adds warmth, and protects your valuable lens from scratches, dirt, fingerprints, etc. Leave it on your lens at all times.

•

Polarizing Filter

For shooting in bright sun, at beaches, snow, etc. Controls bright light entering lenses for a better balanced color image. Darkens blue skies and reduces reflections from non-metallic surfaces.

•

Fluorescent Filter

Reduces the greenish cast common to fluorescent lighting and produces pleasing, natural results, particularly in flesh tones.
| | |
| --- | --- |
| • | Carrying Case Included |
| • | Brand new, Lifetime Warranty |
Opteka Hot Shoe Cap with Bubble Spirit

This Bubble spirit level helps you achieve a finer degree of accuracy. Useful gear for panoramic photography, photo stitching and architecture photography. Innovative circular design takes up less space than blocky 2- or 3-axis levels. Easier to read than see-through levels. Protects the interior from dust and debris when it's not in use. Fit securely over the hot shoe.
Opteka Tabletop Tripod & 5 Piece Cleaning Kit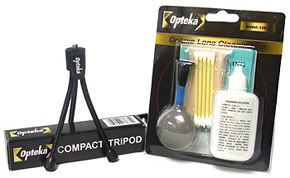 With an Opteka 5 piece Lens/Camera cleaning kit it contains everything you need to maintain your Digital Camera! It cleans hard to reach lenses, protects battery contacts, and is very easy and safe to use. Works excellent for lenses, cameras, filters, and it also easily cleans LCD panels. The lens cleaning solution is specially made for removing oil and dirt. The Opteka table top tripod is ideal for backyard observation or anywhere - an ultra-compact tripod is all you need!
Opteka Compact Tabletop Tripod

•

3 inches

•

Rubber feet

•

Allows you to rest your camera on fixed objects with out scratching your camera

Opteka 5 Piece Camera/Lens Cleaning Kit

•

Cleans lenses, camera Lenses, and filters

•

Lens cleaning solution - made specially for removing oil and dirt

•

Double pressed micro-fiber cleaning cloth

•

Cleaning tissues

•

Q-Tips

•

Blower brush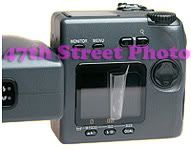 Protect your camera's delicate LCD Screen from scratches and eliminate glare with these LCD Sceen Protectors. Replace sheets in mere seconds thanks to the textured screen surface that adheres instantly to your screen.
Additional Info
Additional Info
| | |
| --- | --- |
| Brand | Sigma |
| Name | Sigma 70-300mm f/4-5.6 AF Zoom Lens +Kit for Canon EOS |
| SKU | INKFROG_154911087 |
| Price | $159.00 |
Reviews