Description
Details
The
Opteka SteadyVid EX
is a video stabilizing system designed to reduce shake and stabilize video on cameras and camcorders weighting up to
2.1 lbs
(0.95kg). The SteadyVid EX features aluminum construction, comfort grip handle, super-smooth gimbal, polished chrome counter-weight, sprit level, rubberized camera mount and thumb stabilizer. The SteadyVid EX is the most affordable full-featured stabilizer on the market.

Courtesy of jamesbechina

Features
~ Supports digital cameras and camcorders up to 2.1 lbs
~ DSLRs can be used on the SteadyVid EX with light lenses (up to 2.1 lbs total weight of body and lens)
~ Comfort grip handle
~ Super gimbal for smooth, accurate motion
~ Polished chrome counter-weight
~ Spirit level and thumb stabilizer
~ 1 Year Warranty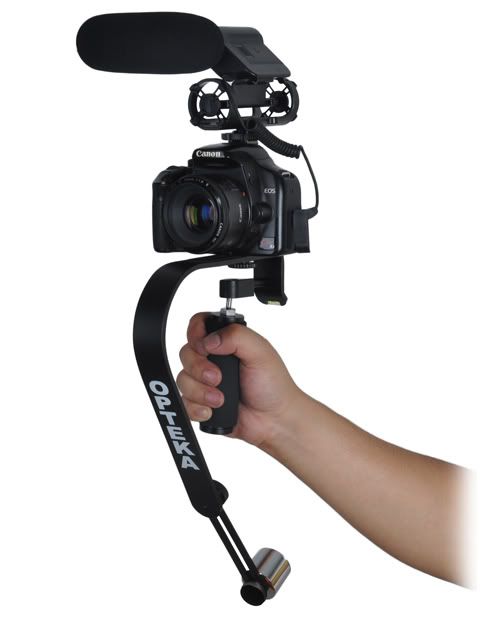 Camera/microphone not included



Specifications
Load Capacity: 2.1 lbs (0.95kg)
Construction: Aluminum body, rubber padded handle, polished chrome counterweight
Dimensions : 8" x 9.5" x 1.2" (20.3 x 24.1 x 3 cm)
Weight: 1.43 lbs (650g)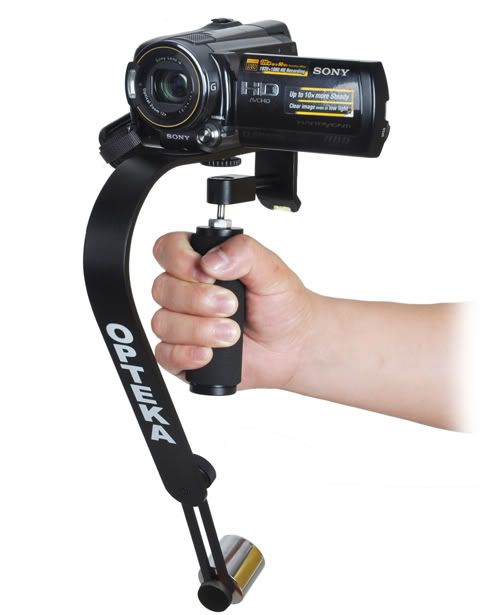 Camcorder not included
Opteka CBW-5 Extra Chrome Counterbalance Weights for SteadyVid EX Video Stabilizer
Brand New - 1 Year Warranty

The Opteka CBW-5 are two additional 6.2 oz (175g) counterweights which can be added to the existing counterweight on the SteadyVid EX to make balancing the camera easier. The CBW-5 also allows the use of heavier cameras on the SteadyVid EX. The CBW-5 are dual threaded (1/4" thread) and may be stacked as needed to achieve the desired balance.
| | |
| --- | --- |
| | Weight: Two 6.2 oz (175g) weights / 12.4 oz (350g) total weight |
| | Compatibility: Opteka SteadyVid EX (1/4" screw / dual threaded) |
| | Polished Chrome |
| | 1 Year Warranty |
Additional Info
Additional Info
| | |
| --- | --- |
| Name | Opteka SteadyVid EX Video Stabilizer w/ Extra CBW-5 Chrome Counterbalance Weight |
| SKU | SVEXCBW5 |
| Model # | No |
| Price | $79.95 |
| Brand | Opteka |
| Configuration | Stabilizer Accessories |
| Color | N/A |
Reviews