Description
Details
Opteka EF-790 DG TTL II LCD Flash for Sony A580 A99 A37 A77 A37 A900 Cameras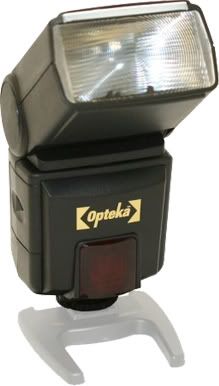 The Opteka EF-790 DG SUPER TTL is designed to work with the all Sony digital SLR cameras, It has a maximum guide number of 148 feet or 45 meter at 85mm focal length (ISO 100).The projection angle of the flashgun is set automatically to match the len's focal length ranging from 24mm wide angle to 85mm medium telephoto. It also incorporates a built-in reflecting plate and diffuser that can be slid out from the top of the flash head for soft lighting effects. The bounce flash head can be tilted 90° upwards and can be swiveled 180° to the left and 90° to the right. In addition, the flash can also be set manually at 6 different power output levels or can be utilized as a wireless slave.
Features:
- Bounce & swivel head - Flash can be tilted 90° upwards and also can be swiveled 180° to the left and 90° to the right
- AF assist - Autofocus auxiliary lamp helps the camera to focus in low-light
- Illuminated LCD panel
- Built in Reflecting Plate and Diffuser
- Front and Rear Curtain Synchronization
- Battery-saving mode shuts down power after 5 minutes
- 1 Year Warranty
| | |
| --- | --- |
| Type | Shoe Mount |
| Guide No. | 148' (45 m) at 85mm |
| AF Illuminator | 3.3ft-20ft/1-6m (50mm Lens) |
| Flash Duration | 1/1000 to 1/20,000 second |
| TTL II Dedication | Yes |
| Bounce Head | Yes |
| Swivel Head | Yes |
| Recycle Time | 0.5-9 seconds (based on fresh batteries & full power) |
| Power Source | Four 1.5-Volt "AA" batteries (alkaline, lithium, Ni-cd & Ni-MH) |
| Dimensions | 72mm x 100mm x 125mm |
| Weight | 270g (without batteries) |
Opteka PD-10 Universal Soft Screen Pop-Up Diffuser for Canon EOS/Nikon/Pentax/Sony/Olympus On-Camera Flash
The Opteka PD-10 is a great little accessory for SLR cameras with a pop-up flash--it attaches in seconds to soften and diffuse the light from the flash. This diffuser will operate in any camera mode (aperture priority, auto, etc.) and works with most Canon, Nikon, Sony, Olympus, Kodak, Pentax and Fuji cameras with pop-up flashes.
Camera not included
Softens Harsh Shadows
Reduces Hot Spots
Attaches in Seconds
Fits most Canon, Nikon, Sony, Olympus, Kodak, Pentax & Fuji Camera's with Pop-Up Flashes
Opteka Medium 5" X 4" Color & White Balance Reference Grey Card Set With Quick-Release Neck Strap for Digital Photography
The color values of Opteka Digital Grey Card set have been tested under varying light conditions and show a high degree of spectral neutrality. Using the industry-standard X-Rite spectrophotometer, LAB values of L* 63.8, a* -1.6, b* -0.4 are measured from the surface of the grey card under D50 standard illuminant. For optimum color correction, the black card achieves truly deep blacks (RGB 16,16,15). The grey card displays superior spectral neutrality with measured values of 162, 162, 160. The white card has a tested RGB value of (220, 224, 223). All three cards have excellent uniformity across a range of light sources.
Includes three color calibrated reference cards.
Dimensions 5" X 4" 0.1" (130mm by 100mm)
Logo label with focus target is affixed to one side of the grey card. Both sides of the cards are usable for white balance.
Works with any digital camera, for JPEG and RAW files
Certified performance and quality.
Lanyard Strap Included
Opteka Tabletop Tripod & 5 Piece Cleaning Kit
With an Opteka 5 piece Lens/Camera cleaning kit it contains everything you need to maintain your Digital Camera! It cleans hard to reach lenses, protects battery contacts, and is very easy and safe to use. Works excellent for lenses, cameras, filters, and it also easily cleans LCD panels. The lens cleaning solution is specially made for removing oil and dirt. The Opteka table top tripod is ideal for backyard observation or anywhere - an ultra-compact tripod is all you need!
Opteka Compact Tabletop Tripod

3 inches
Rubber feet
Allows you to rest your camera on fixed objects with out scratching your camera
Opteka 5 Piece Camera/Lens Cleaning Kit

Cleans lenses, camera Lenses, and filters
Lens cleaning solution - made specially for removing oil and dirt
Double pressed micro-fiber cleaning cloth
Cleaning tissues
Q-Tips
Blower brush
Additional Info
Additional Info
| | |
| --- | --- |
| Brand | Opteka |
| Name | Opteka EF-790 DG Super TTL II Flash Bundle for Sony A580 A99 A37 A77 A37 A900 |
| SKU | EF790DGCNKIT-SON_4 |
| Price | $49.89 |
Reviews