Description
Details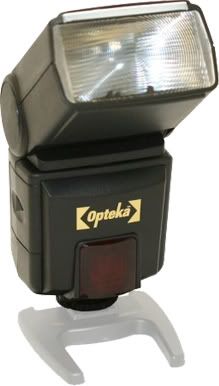 The Opteka EF-790 DG SUPER i-TTL is designed to work with the all Nikon digital SLR cameras, It has a maximum guide number of 148 feet or 45 meter at 85mm focal length (ISO 100).The projection angle of the flashgun is set automatically to match the len's focal length ranging from 24mm wide angle to 85mm medium telephoto. It also incorporates a built-in reflecting plate and diffuser that can be slid out from the top of the flash head for soft lighting effects. The bounce flash head can be tilted 90° upwards and can be swiveled 180° to the left and 90° to the right. In addition, the flash can also be set manually at 6 different power output levels or can be utilized as a wireless slave.
Features:
- Bounce & swivel head - Flash can be tilted 90° upwards and also can be swiveled 180° to the left and 90° to the right
- AF assist - Autofocus auxiliary lamp helps the camera to focus in low-light
- Illuminated LCD panel
- Built in Reflecting Plate and Diffuser
- Front and Rear Curtain Synchronization
- Battery-saving mode shuts down power after 5 minutes
- 1 Year Warranty
Type
Shoe Mount
Guide No.
148' (45 m) at 85mm
AF Illuminator
3.3ft-20ft/1-6m (50mm Lens)
Flash Duration
1/1000 to 1/20,000 second
i-TTL II Dedication
Yes
Bounce Head
Yes
Swivel Head
Yes
Recycle Time
0.5-9 seconds (based on fresh batteries & full power)
Power Source
Four 1.5-Volt "AA" batteries (alkaline, lithium, Ni-cd & Ni-MH)
Dimensions
72mm x 100mm x 125mm
Weight
270g (without batteries)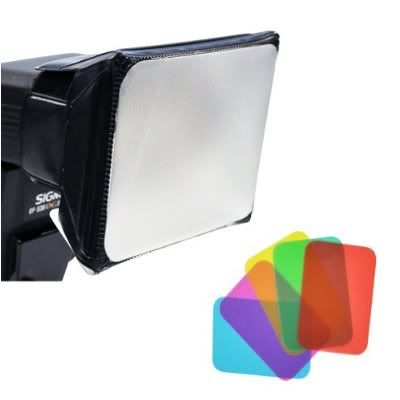 :: Brand New, 1 Year Opteka USA Warranty ::
The Opteka SB-110 includes an assortment of six colored gels: Blue, Green, Red, Yellow, Amber & Pink.

The filter holder is designed to fit most flash models.

The SB-110 enables a photographer to quickly and conveniently colorize the light for a variety of special effect applications.
| | |
| --- | --- |
| * | Universal - fits most flashes with the include velcro adhesive tabs, or optional Opteka CL-1 clinch band |
| * | Includes Blue, Green, Red, Yellow, Amber & Pink Gels |
| * | Approximate 1 stop light loss |
| * | Dimensions: 3 3/8 X 4 (inches) |
| * | 1 Year Opteka Warranty |
The Opteka CL-1 Clinch Band allows you to attach Opteka flash modifiers to your flash without using the including adhesive velcro tabs for a mess-free secure attachment.

| | |
| --- | --- |
| * | Alternative to using the adhesive velcro tabs included with the Opteka flash accessories |
| * | Allows for a secure mess-free attachment |
| * | Anti-slip design |
| * | 1 Year Opteka Warranty |
The Opteka TTL Off-Camera Flash Remote Cord provides full TTL control for external flashes Speedlites when used off-camera with SLR cameras which have the TTL hot flash shoe. It permits easy use of flash when the camera is mounted upon a bracket. Works with all Pentax and third party flashes.
| | |
| --- | --- |
| * | Heavy-duty coiled cable (Extends to 6 Feet) |
| * | E-TTL Compatible |
| * | 1 Year Warranty |
| * | Brand New, Sealed |
Power 2000 (4x) AA Rechargeable Batteries and Charger Kit
The Power 2000 high-capacity AA rechargeable nickel-metal hydride batteries works for every item that uses AA batteries such as Digital Cameras, Flashes, PDA's, CD players, MP3 players, handheld Video games, portable GPS devices, and many more. It lasts a lot longer than AA batteries made of alkaline or niCd cells, which were ineffective for high-drainage and power-hungry devices.
Includes worldwide compatible Battery charger
Works with Digital Camera, MP3 Player, or other portable device that accepts AA rechargeable batteries
May be charged (recharged) up to 1000 times
Environmentally Friendly
Additional Info
Additional Info
| | |
| --- | --- |
| Brand | Opteka |
| Name | Opteka EF-790 DG i-TTL II LCD Flash + Kit for Nikon |
| SKU | EF790DGKIT_2 |
| Price | $69.99 |
Reviews