Description
Details
Opteka OPT-SC37FE Platinum Series 0.3X HD Ultra Fisheye Lens
Brand New, 5 Year Warranty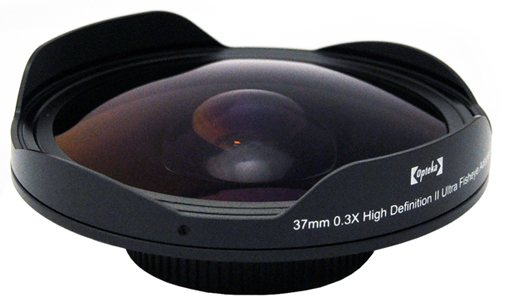 An essential tool for extreme sports and dramatic action shooters. The 0.3X Ultra Fisheye Adapter offers an extreme fisheye effect and a high degree of barrel distortion. It exaggerates depth by pulling nearby objects closer and causing distant objects to recede into the background. Advances in high-index / low-dispersion optical glasses, new barrel materials, and exotic anti-reflection coatings, along with the latest in computer-aided-design / computer-aided-manufacturing, are combined to produce lenses of unprecedented quality.
Included: Opteka 37mm 0.3X Ultra Fisheye Adapter, 25-37mm Adapter, 30-37mm Adapter, 30.5-37mm Adapter, Screwdriver (To remove hood), Lens Pouch, 5 Year Opteka Worldwide Warranty.
Opteka X-GRIP Professional Camera / Camcorder Action Stabilizing Handle
Brand New, 1 Year Warranty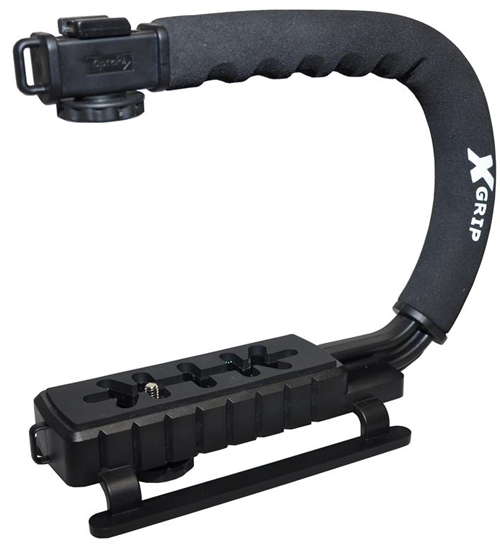 The Opteka X-GRIP handle can be used by both a professional or amateur user. This incredible support offers stability and control. The hot shoe attachment enables you to add a video light or flash. Extremely useful product for skateboarding and other extreme sports.
Fits most compact cameras and camcorders with a standard 1/4-20 thread

Cushioned NBR padded handle alleviates the stress of lengthy filming

High-grade ABS impact-absorbent plastic

Non-slip rubber rails

Shoe mount (removable) for video lights, flashes, or microphones

Max camera height: 4.75" (120mm)

Dimensions: 8.25" X 9.75" X 3.50" HxLxW (209mm X 247mm X 89mm)

Weight: 12.2 oz (345g) without devices

1 Year Opteka Warranty
Opteka VL-20 LED Video Light for Camcorders
Brand New, 1 Year Warranty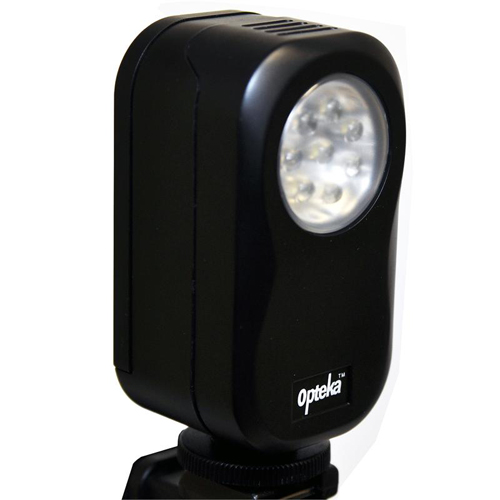 The Opteka VL-20 is an affordable ultra-compact Universal LED light that is designed for camcorders. It will attach to camcorders with a standard shoe mount, or via the 1/4-20 tripod mount with the included straight bracket. The light is ideal for providing that extra illumination to make your videos shine through with extra vibrancy and clarity without adding any bulk to your kit.
| | |
| --- | --- |
| ? | Lamp type: LED |
| ? | Brightness: 200CD |
| ? | Color Temperature: 5200K |
| ? | LED Life: 30,000 hours |
| ? | Mounting: Shoe mount (standard) or 1/4-20 with included straight bracket |
| ? | Power Source: 2 AA batteries |
| ? | Run Time: 300 minutes on fresh batteries |
| ? | Dimensions (WxDxH): 1.6 X 1.9 X 2.8" |
| ? | Weight: 4 oz |
| ? | 1 Year Limited Warranty |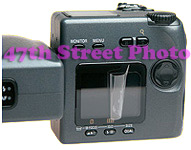 Protect your camera's delicate LCD Screen from scratches and eliminate glare with these LCD Sceen Protectors. Replace sheets in mere seconds thanks to the textured screen surface that adheres instantly to your screen.
| | |
| --- | --- |
| ? | Prevent Scratching |
| ? | Eliminates Glare |
| ? | Protect screen from scratches, wear and damage |
| ? | Reduce screen glare and enhance view |
Opteka Tabletop Tripod & 5 Piece Cleaning Kit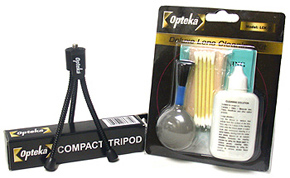 With an Opteka 5 piece Lens/Camera cleaning kit it contains everything you need to maintain your Digital Camera! It cleans hard to reach lenses, protects battery contacts, and is very easy and safe to use. Works excellent for lenses, cameras, filters, and it also easily cleans LCD panels. The lens cleaning solution is specially made for removing oil and dirt. The Opteka table top tripod is ideal for backyard observation or anywhere - an ultra-compact tripod is all you need!
Opteka Compact Tabletop Tripod

?

3 inches

?

Rubber feet

?

Allows you to rest your camera on fixed objects with out scratching your camera

Opteka 5 Piece Camera/Lens Cleaning Kit

?

Cleans lenses, camera Lenses, and filters

?

Lens cleaning solution - made specially for removing oil and dirt

?

Double pressed micro-fiber cleaning cloth

?

Cleaning tissues

?

Q-Tips

?

Blower brush

Additional Info
Additional Info
| | |
| --- | --- |
| Name | Opteka Deluxe Video Skaters Package for 37mm Camcorders |
| SKU | INKFROG_154922960 |
| Manufacturer | N/A |
| Price | $92.65 |
| Brand | Opteka |
| Color | N/A |
Reviews