Description
Details
The Opteka CXS-300 is a dual-grip video shoulder support rig designed to stabilize and minimize rotation from your video shoots. The CXS-300 safely supports up to 30 lbs of equipment with its heavy-duty aluminum construction. The CXS-300 may be further customized with accessories such as LCD monitors, video lights or microphones and features our universal 15mm rail system.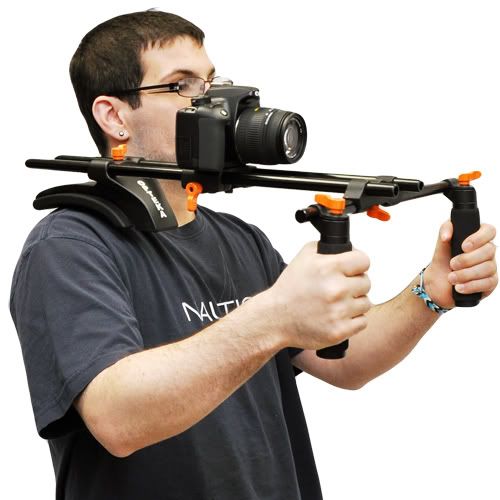 Features
~ Provides stability to video shoots
~ Adjustable camera mounting plate and shoulder pad
~ Heavy-duty aluminum construction
~ Supports up to 30 lbs (13.6kg) of equipment
~ Universal 15mm rail system
~ Customizable with optional accessories and mounts
~ 1 Year Opteka Warranty

Specifications
Weight Capacity: 30 lbs (13.6 kg)
Compatible Rails: 15mm
Compatible Accessories (May require mount): Counterweight, LCD Monitor, Video Light, LCD Viewfinder, Microphone, FollowFocus
Dimensions (LxHxD): 19 22 x 7.6 x 14.9" (55.8 x 19.3 x 37.8 cm)
Weight: 3.81lbs (1730g)
Opteka CBW-2 Counterbalance Weight for the Opteka CXS-300 & Other Shoulder Rigs
::Brand New 1 Year Warranty::
The Opteka CBW-2 is 4.6-pound counter weight designed to stabilize and balance the CXS-300 and similar video shoulder support rigs which use 15mm rods. The CBW-2 includes a bracket to securely attach it to the industry standard 15mm rod system. The CBW-2 may be stacked with the CBW-1 (sold separately here) to achieve the desired balance.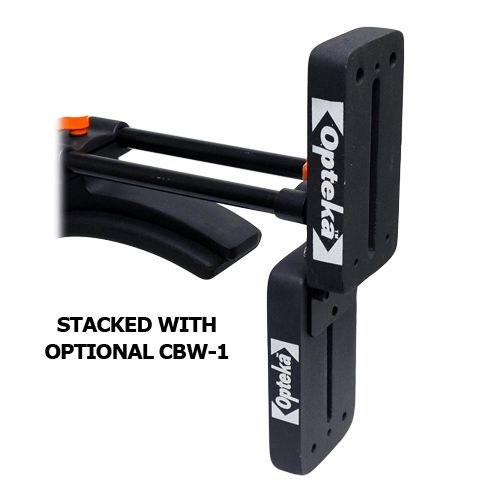 Stacked with optional CBW-1 weight (total weight 8.7lb/3.95kg)

Weight: 4.6 lbs (2.1KG)
Compatibility: Opteka CXS-300 and other shoulder rigs with 15mm rods
May

be stacked with the CBW-1 (sold separately here) to achieve the desired balance
1 Year Warranty
Additional Info
Additional Info
| | |
| --- | --- |
| Name | Opteka CXS-300 Dual-Grip Stabilizer System with CBW-2 Counterbalance Weight |
| SKU | CXS300-CBW2_KIT |
| Model # | CXS-300 |
| Price | $214.95 |
| Brand | Opteka |
| Configuration | Hand-Held Stabilizers |
| Color | N/A |
Reviews