Description
Details

Opteka 30.5mm .5x High Definition II Wide Angle Lens for Digital Video Cameras
:: Brand New, Lifetime Opteka USA Warranty ::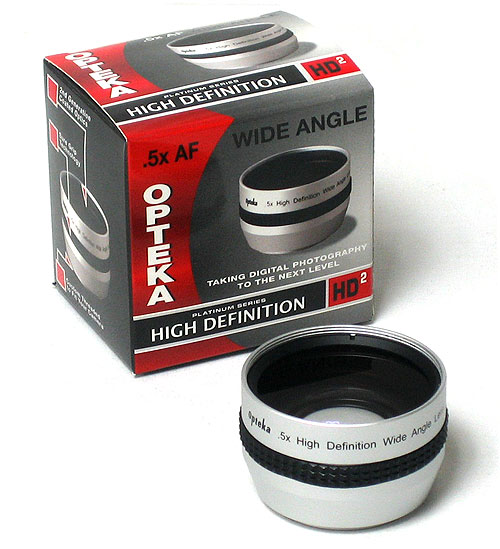 Your pictures are only as good as the glass in your lens.
Nothing changes the way you see the world like High Definition² and no company does High Definition² like Opteka. Opteka's glass optics define High Definition. Change the way you view the world. Enjoy outstanding detail, enjoy enhanced clarity, enjoy Opteka.
The Effects of Conversion Lenses.
Since it fits right over your camera's existing lens system, a wide-angle converter affects the full zoom range of your camera's lens. A .5x wide-angle converter virtually DOUBLES your angle of view, allowing you to get twice as much in the picture. Scenes include more of the landscape, groups include more people, and interiors show more of the room!
Improved Digital Imagery.
An Opteka conversion lens can actually improve the image that your digital camera receives. By eliminating flare and ghosting, the ugly cousins of reflection and refraction, before they get to your camera's original lens system, your camera gets a much cleaner image to digitize. Plus, an Opteka converter allows you to use a more optimal part of your original lens system, resulting in crisper imagery.
Why The Pros Choose Opteka High Definition²
HD²
(High Definition²)
2 times the resolution of standard high definition lenses.
SGT
(SureGrip Technology)
Exclusive SureGrip composite material is used around the barrel. This material is exceptionally non-slip, yet soft and easy on your hands.
DMC
(Digital Multi-Coated)
Greatly reduces the appearance of lens flare and ghosting caused by reflections.
BAB
(Internal Black Almite Barrel)
Black matte satin finish which reduces reflections.
BRG
(Black Rimmed Glass)
Reduces the chance of light reflecting off the edge.
| | |
| --- | --- |
| • | .5x High Definition² Wide-Angle Lens |
| • | High-index / low-dispersion optical glass |
| • | Digital Multi-Coated |
| • | Titanium anodized finish |
| • | High speed auto-focus / Infrared compatible |
| • | Maximize day & night shots by providing maximum light transmission |
| • | Built-in macro lens for extreme close-up shots |
| • | Lens bag, lens covers and instructions included |
| • | Brand new, Lifetime warranty |

Additional Info
Additional Info
| | |
| --- | --- |
| Name | Opteka 30.5mm 0.5x High Definition II Wide Angle Lens |
| Brand | Opteka |
| SKU | OPT-.5X-305 |
| Type | Wide Angle |
| To Fit Lens Front | 30.5mm |
| Mount | Universal |
| Finish / Color | Silver |
| Model # | No |
| Price | $29.95 |
Reviews