Description
Details
Nikon AF-S NIKKOR 55-300mm f/4.5-5.6G ED VR Zoom Lens w/ Kit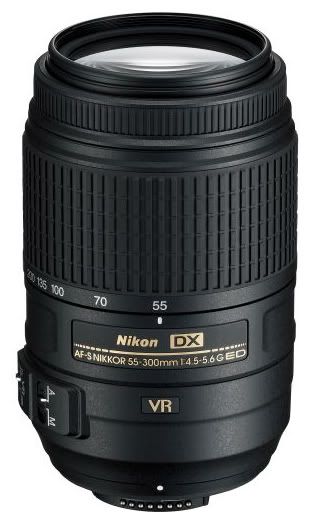 The Nikon AF-S NIKKOR 55-300mm f/4.5-5.6G ED VR Zoom Lens is a compact 5.5x zoom lens for DX-format D-SLR cameras. Its equivalent focal length in FX-format is 82.5-450mm. This lens is an excellent choice for travel, landscapes, portraits, and distant subjects. The lens focuses to 4.6' at every focal length - this versatility ensures stunning close-up shots of subjects near and far.
The VR II image stabilization allows you to handhold the your camera at up to 4 shutter speeds slower than would otherwise be possible, assuring dramatically sharper still images and stable video capture. Other features include the silent wave motor for quiet accurate autofocusing, and a rounded 9-blade diaphragm that offers stunning out-of-focus highlights (bokeh). The lens elements have been treated with Nikon's Super Integrated Coating - an optical lens coating process that maximizes light transmission while enhancing clarity and contrast. All of these world-class features add up to the AF-S 55-300 being an ideal lens for traveling or shooting close to home.
5.5x Telephoto Zoom Lens

Ideal for capturing distant subjects at athletic events, family pictures, dramatic sunsets, travel and more. Angle of view equivalent to a focal length of 82.5 to 450mm in FX/35mm format D-SLR.
Nikon VR II Image Stabilization

Vibration Reduction, engineered specifically for each VR NIKKOR lens, enables handheld shooting at up to 4 shutter speeds slower than would otherwise be possible, assuring dramatically sharper still images and video capture.
Tripod Detection Mode

Reduces vibration that may occur due to shutter release when mounted on a tripod.
HRI (High Refractive Index) Lens Element

HRI lens element is essential to keeping the lens compact while offering high contrast even at maximum aperture.
2 Extra-low Dispersion (ED) Elements

Effectively minimizes chromatic aberration, even at the widest aperture settings.
Exclusive Nikon Silent Wave Motor (SWM)

Enables fast, accurate and quiet autofocus.
Nikon Super Integrated Coating (SIC)

Enhances light transmission efficiency and offers superior color consistency and reduces flare.
Rounded 9-Blade Diaphragm

Renders more natural appearance of out-of-focus image areas.
Focus to 4.6' at Any Focal Length

This extends the versatility of this lens

The UV filter is one of the most important filters to own and it should be available for every lens. The filter blocks the invisible UV rays which can cause a loss of sharpness. The use of the filter is particularly recommended for work in the mountains, at the ocean, and in areas with very clear air. The contrasts are heightened, and distorting fog is avoided. The Opteka HD² Multi-Coated UV Ultraviolet Haze Filter cuts haze for sharper black and white prints and corrects the blues and violets in color prints. The filter glass is colorless, and hence no increase in the exposure time is required.
Multi-coating can prevent light reflection, ghost light, internal reflection etc, making image clearer and sharper. It can dramatically improve image quality. This is specially important in digital cameras. Since the image sensors CCD or CMOS are highly susceptible to reflections, this stray light can ruin your photographs. Multi-coated glass benefit substantially reduced light reflections, resulting clearer image with greater contrast.
This type of filter is also eminently suitable as protection for the front lens, and because of its color-neutral properties it can remain on the camera lens permanently. A scratched front lens element can not be repaired; and replacement is costly. Exchanging a damaged UV filter for a new one is more economical than the purchase of a new lens.
| | |
| --- | --- |
| | |
| Without UV Filter | With UV Filter |
| | |
| --- | --- |
| • | High-index / low-dispersion optical glass with HD² Technology |
| • | Multi-Coated and heat treated glass to eliminate distortion |
| • | Pictures gain brilliance and disturbing blue casts are avoided |
| • | Designed to maximize day and night shots by providing maximum light transmission |
| • | Penetrates haze, adds warmth, and protects your valuable lens from scratches, dirt, fingerprints, etc. |
| • | Brand New, Lifetime Warranty |
Opteka Digital Gear SLR & DSLR Camera Short Zoom Holster Case w/Adjustable Shoulder Strap
This stylish, weatherproof camera bag is designed for Digital SLR camera's with short to mid-range lenses. Made of Weather and stain resistant leather-like material with Durable, foam padded construction and impact resistant PVC hardware.
| | |
| --- | --- |
| • | Fits most SLR and digital cameras with mid-range Zoom lens |
| • | Weather and stain resistant leather-like material |
| • | Durable, foam padded construction |
| • | Durable, impact resistant PVC hardware |
| • | Exterior Dimensions: 7 3/4" L x 4 1/4" D x 7 1/2"H |
Opteka Tabletop Tripod & 5 Piece Cleaning Kit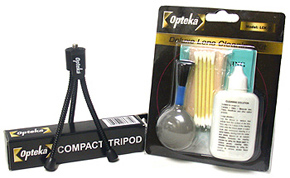 With an Opteka 5 piece Lens/Camera cleaning kit it contains everything you need to maintain your Digital Camera! It cleans hard to reach lenses, protects battery contacts, and is very easy and safe to use. Works excellent for lenses, cameras, filters, and it also easily cleans LCD panels. The lens cleaning solution is specially made for removing oil and dirt. The Opteka table top tripod is ideal for backyard observation or anywhere - an ultra-compact tripod is all you need!
Opteka Compact Tabletop Tripod

•
3 inches
•
Rubber feet
•
Allows you to rest your camera on fixed objects with out scratching your camera
Opteka 5 Piece Camera/Lens Cleaning Kit
•
Cleans lenses, camera Lenses, and filters
•
Lens cleaning solution - made specially for removing oil and dirt
•
Double pressed micro-fiber cleaning cloth
•
Cleaning tissues
•
Q-Tips
•
Blower brush
Opteka Professional Photo / Video Tripod
Opteka applied their legendary craftsmanship and state-of-the-art engineering to create a unique professional tripod made for today's photographer/videographer. Compatible with most digital, film or video cameras.
Follow the action and keep your horizons true, shot after shot. When you move your camera for a different view, you can reset it level in seconds. No more fussing with blurry pictures or tired arms!
Additional Info
Additional Info
| | |
| --- | --- |
| Brand | Nikon |
| Name | Nikon AF-S NIKKOR 55-300mm f/4.5-5.6G ED VR Lens w/ Kit |
| SKU | NIK55300MMKIT |
| Price | $399.95 |
Reviews