Description
Details
Canon Speedlite 580EX II Flash + KIT
Canon Speedlite 580EX II Flash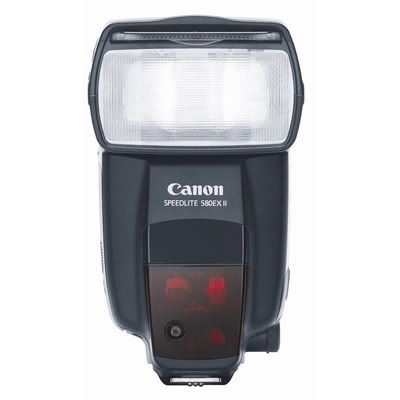 Further development of Canon's flagship Speedlite has led to the production of the 580 EX II. This is the premier Speedlite for all photographers, including professionals. Newly designed to match with the EOS-1D Mark III in terms of improved dust- and water-resistance, body strength, and the ability to control flash functions and settings from the camera menu (EOS-1D Mark III only). Other features include improved communication reliability through its direct contacts, and recycling time is both 20% shorter than the 580EX and is completely inaudible.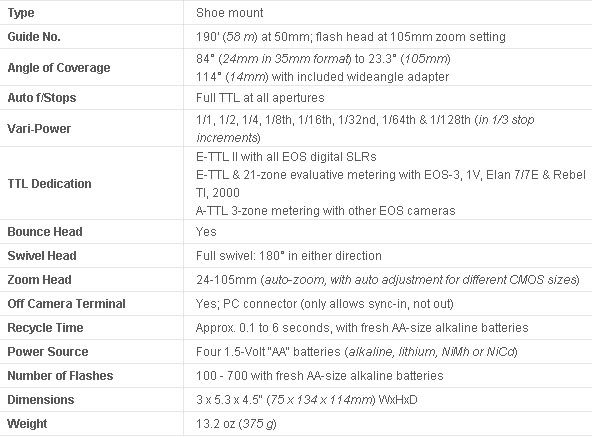 Opteka FB-50 Universal Flash Bouncer for External Flash Units




The FB-50 enlarges and redirects light at a 90º angle from the flash. This softens the quality of the light with minimal light loss and distributes it over a wider area. This can be very helpful when low ceilings are not available or when more direct but soft fill light is desired. While no exposure compensation is necessary with automatic flashes, operating distances are slightly reduced.

- Enlarges and redirects light at a 90 degrees angle from the flash
- Softens light and distributes to a larger area
- Approximate 1-1/3 stop light loss
- Attaches with the included velcro adhesive tabs or the optional Opteka CL-1 clinch band (sold separately)
- Folds flat to 4-1/2 X 7-1/4 inches
- Weighs just 3.2 ounces

Opteka SB-1 Universal Studio Soft Box Flash Diffuser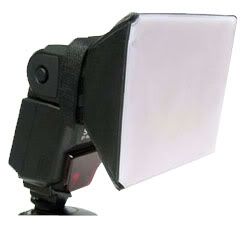 A dramatic, eye catching photo can mean dramatic profits. Getting a well exposed photo is extremely important. Photographers often turn to a flash to help light the scene. The problem is that flash can cause harsh reflections or glare spots or create deep shadows that distract viewers. This little, portable universal external flash diffuser will prevent those problems when using a flash. Simply put the unit over the camera's flash, point and shoot. The light will be softened and your photos will be well exposed, without the harsh glare spots.

- Provides soft even flash illumination
- One size fits all. The adjustable flash mounting shoe attaches by Velcro to allow for all size flash units
- Folds down flat for easy storage and portability
- Dimensions: 3.5" X 5"

Opteka Pocket-Sized Reference Color & White Balance Grey Card Set




The color values of Opteka Digital Grey Card set have been tested under varying light conditions and show a high degree of spectral neutrality. Using the industry-standard X-Rite spectrophotometer, LAB values of L* 63.8, a* -1.6, b* -0.4 are measured from the surface of the grey card under D50 standard illuminant. For optimum color correction, the black card achieves truly deep blacks (RGB 16,16,15). The grey card displays superior spectral neutrality with measured values of 162, 162, 160. The white card has a tested RGB value of (220, 224, 223). All three cards have excellent uniformity across a range of light sources.

- Includes three color calibrated reference cards.
- Dimensions 3.2" X 2.2" 0.1" (83 by 50 cm)
- Logo label with focus target is affixed to one side of the grey card. Both sides of the cards are usable for white balance.
- Works with any digital camera, for JPEG and RAW files
- Certified performance and quality.
- Lanyard Strap Included

LCD Screen Protectors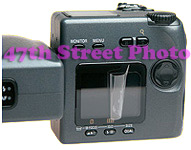 Protect your camera's delicate LCD Screen from scratches and eliminate glare with these LCD Sceen Protectors. Replace sheets in mere seconds thanks to the textured screen surface that adheres instantly to your screen.

Opteka Tabletop Tripod & 5 Piece Cleaning Kit



With an Opteka 5 piece Lens/Camera cleaning kit it contains everything you need to maintain your Digital Camera! It cleans hard to reach lenses, protects battery contacts, and is very easy and safe to use. Works excellent for lenses, cameras, filters, and it also easily cleans LCD panels. The lens cleaning solution is specially made for removing oil and dirt. The Opteka table top tripod is ideal for backyard observation or anywhere - an ultra-compact tripod is all you need!
Additional Info
Additional Info
| | |
| --- | --- |
| Name | Canon Speedlite 580EX II Speedlite Flash with Opteka Bouncer and Diffuser Kit |
| SKU | CAN580EXKIT |
| Model # | 1946B002 |
| Price | $499.99 |
| Brand | Canon |
| Compatible With | Canon |
| Mount Type | Shoe Mount |
Reviews