Description
Details
Canon EOS Rebel T5i DSLR Camera w/ EF-S 18-55mm STM Lens & 16GB Advanced Bundle
This Kit Includes the Following Brand New Items:
Canon EOS Rebel T5i DSLR Camera with EF-S 18-55mm f/3.5-5.6 IS STM Lens
Opteka .43x High Definition Wide Angle With Macro & 2.2x Telephoto Lens Kit
Opteka Microfiber Deluxe Photo/Video Camera Gadget Bag for Digital Cameras & Camcorders
Opteka 16 GB Class 10 SDHC Secure Digital Memory Card
Opteka OPT540 54" Compact Professional Photo / Video Tripod
LP-E8 Ultra High Capacity Li-ion Battery Pack for Canon Digital Rebel T2i, T3i, T4i & T5i Digital SLR Cameras
Opteka MBC-series AC/DC Mono Rapid Battery Charger
Opteka Gold Plated High Speed HDMI to Mini-HDMI Cable
USB 2.0 SD/SDHC/MMC Flash Memory Card Reader
Opteka Tabletop Tripod & 5 Piece Cleaning Kit
Canon EOS Rebel T5i DSLR Camera with EF-S 18-55mm f/3.5-5.6 IS STM Lens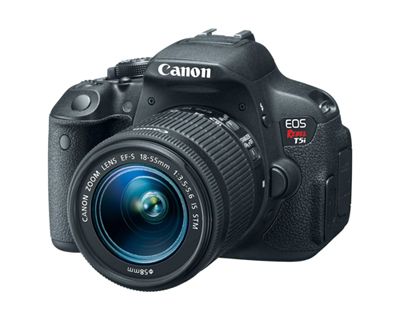 The EOS Rebel T5i DSLR Camera with EF-S 18-55mm f/3.5-5.6 IS STM Lens from Canon is an APS-C format digital SLR camera with an 18MP CMOS sensor and the DIGIC 5 image processor. It is combined with the EF-S 18-55mm f/3.5-5.6 IS STM lens for an effective range of wide-angle to standard focal length.
With 14-bit Analog/Digital conversion, an ISO range from 100-12800 (expandable to 25600) and Multi Shot Noise Reduction, the Rebel T5i offers sharp details, accurate colors and low-noise imaging in both bright and low-light shooting situations. Its 9-point all cross-type autofocus system provides fast focusing when shooting with the viewfinder, and Hybrid CMOS AF increases autofocus speeds when shooting in Live View. The Rebel T5i can continuously shoot up to 5 fps.
A 3.0" Clear View II Vari-angle Touchscreen LCD with 1,040k-dot resolution provides composition and playback viewing. Its tilt and swivel capability makes it easy to compose your shots at odd angles, and a smudge-resistant coating keeps the monitor clear. Intuitive touchscreen operation includes Touch Autofocus.
Full HD 1080p at 30 fps and 24 fps is supported with Movie Servo for continuous autofocus during shooting. Manual exposure is provided in video mode and 60 fps is possible when shooting at 720p HD. A built-in stereo microphone with manual audio level adjustment is provided for quality audio recording with your videos.
Scene Intelligent Auto Mode automatically makes the optimal camera adjustments based on scene recognition and improved scene detection is particularly helpful when shooting night scenes. Advanced imaging features such as Handheld Night Scene and HDR Backlight Control make capturing difficult shots easy, and seven Creative Filters add expressive touches to your images and can even be viewed in real time during Live View shooting.
The EOS Rebel T5i is compatible with the full line of Canon EF and EF-S lenses. It is paired here with the EF-S 18-55mm f/3.5-5.6 IS STM lens, which offers wide-angle to standard focal length shooting specifically designed for APS-C cameras. It is equivalent to a 28.8-88mm focal length in the 35mm format, and its minimum focus distance is 9.8". This lens features Canon's Optical Image Stabilization system, providing 4-stops of compensation for blur caused by slow shutter speeds when shooting hand-held in low light or at longer focal lengths. An internal focusing system provides fast autofocus, and with a Stepping Motor (STM) and six-group zoom system it supports the Rebel T5i's Movie Servo AF feature for smooth and quiet continuous autofocus during video recording. Manual focus override is possible. A high precision aspherical element reduces chromatic aberration throughout the zoom range for sharp imaging, and Canon lens coatings provide accurate color balance and minimal ghosting and flare.
Opteka .43x High Definition Wide Angle with Macro & 2.2x Telephoto Lens Kit 
::Brand New :: 1 Year Warranty::
( Click here for full warranty details )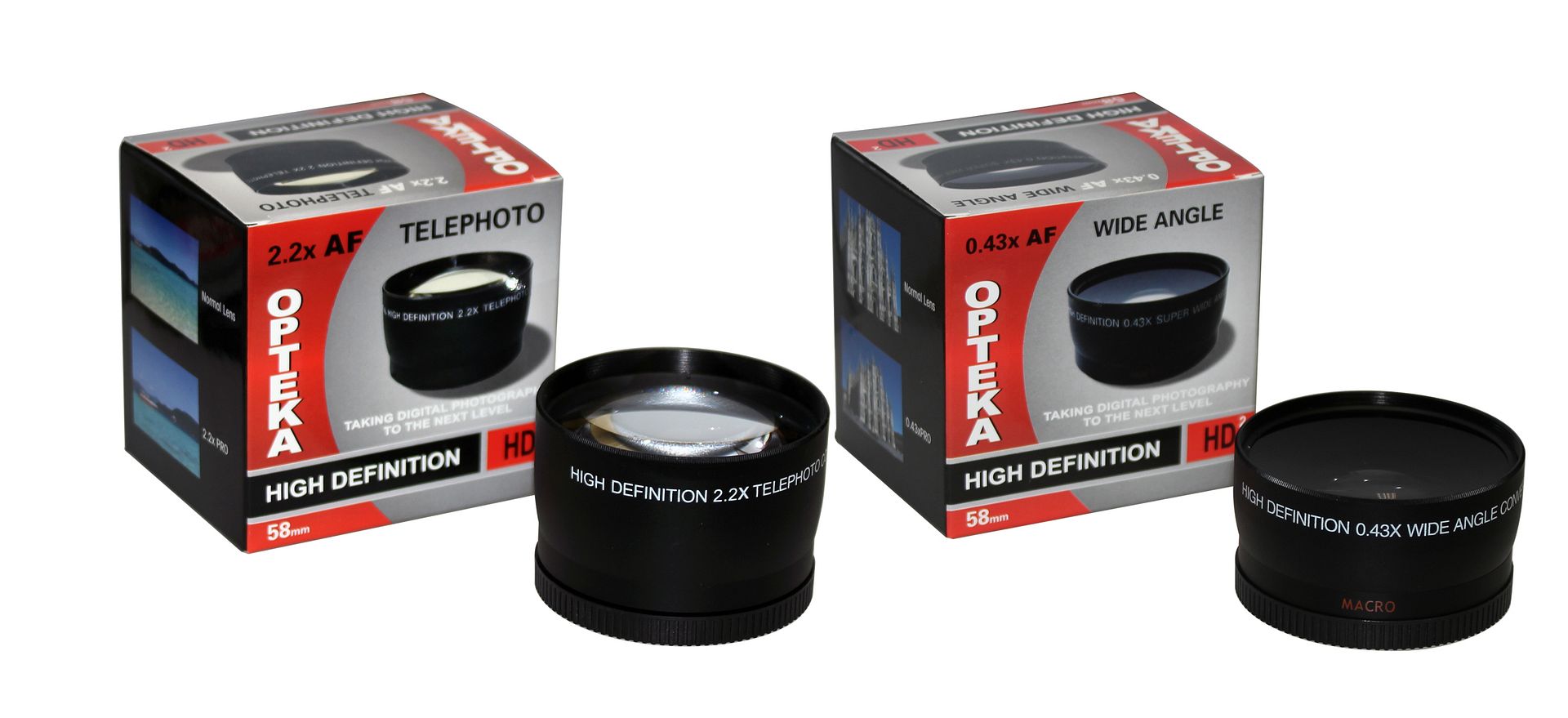 Mounts on existing lens and can be used with zoom lenses
High-index / low-dispersion digital multi-coated optical glass with built-in macro lens for extreme close-up shots
High speed auto-focus / Infrared compatible; Maximize day and night shots by providing maximum light and image transmission
Wide-angle and telephoto converters affect the full zoom range of your camera's lens
A wide-angle converter increases your angle of view while a telephoto increases your zoom
Since it fits right over your camera's existing lens system, a wide-angle and telephoto converter affects the full zoom range of your camera's lens. A wide-angle converter increases your angle of view - scenes include more of the landscape, groups include more people, and interiors show more of the room. A .43x wide-angle converter DOUBLES your angle of view, allowing you to get twice as much in the picture (AND your telephoto setting also becomes wider; not zooming in as close). 

A 2.2x converter will double your camera's maximum focal length, bringing things twice as close. An Opteka conversion lens can actually improve the image that your digital camera receives, and it's about the only accessory that can. By eliminating flare and ghosting, the ugly cousins of reflection and refraction, before they get to your camera's original lens system, your camera gets a much cleaner image to digitize. Plus, an Opteka converter allows you to use a more optimal part of your original lens system, resulting in more crisp imagery. 

Nothing changes the way you see the world like High Definition², and no company does High Definition² like Opteka. Change the way you view the world. Enjoy outstanding detail, enjoy enhanced clarity and enjoy Opteka.
The shockproof / waterproof Opteka microfiber case holds cameras and camcorders with midrange zoom lens, extra lenses and accessories. Features 9" main compartment, plus 2 side pockets, zippered mesh pocket in lid, front zippered accessory pocket with 4 internal pockets, and 2 customizable interior divider. Nice contoured and padded detachable shoulder strap with fast-grip surface, and convenient carry handle.
| | |
| --- | --- |
|   | Ultra water-resistant material |
|   | Material: Microfiber |
|   | Color: black |
|   | Size: 8.75" x 7" x 5" |
|   | Linear Inches: 20.75" |
|   | Zippered top for maximum security |
|   | Zip-front pocket for accessory storage |
|   | Zippered side pockets for extra storage |
|   | High density foam padding |
|   | Customizable divider |
|   | Adjustable shoulder strap |
|   | Includes 5 Year Warranty |
Opteka 16GB SDHC Class 10 Flash Memory Card
::Brand New :: 1 Year Warranty::
( Click here for full warranty details )
When speed and reliability are everything, shoot like a pro with Opteka High Speed Professional SDHC memory cards. New advanced controller technology provides faster shot-to-shot and its advanced Error Correction Code (ECC) engine improves overall data integrity and reliability of the card during read and write. So when the unexpected happens-you'll be ready. Get more RAW + JPEG continuous burst mode shooting and capture full HD video like never before. Reliable. Durable. When every shot counts, choose Opteka memory cards for your DSLR or HD camcorder.

FEATURES:
~ Fully compatible with SD 2.0 Standards
~ Class 10 compliant
~ Easy to use, plug and play operation
~ Built-in Error Correcting Code (ECC) to detect and correct transfer errors
~ Supports Content Protection for Recordable Media(CPRM)
~ Allows In System Programming (ISP) for updating firmware
~ Supports auto-standby, power-off and sleep modes
~ Mechanical write-protection switch
~ RoHS compliant
~ High storage capacity for storing essential digital content such as high quality photos, videos, music and more.
~ Non-volatile solid-state; no moving parts maximizes battery power. Data is not lost when power is turned off.
~ Fast transfer rate for reliable copy, download, back up.
~ This SD card is compatible with all digital devices and other devices with a SD memory card slot.
SPECIFICATIONS:

Size: 32mm x 24mm x 2.1mm (L x W x H)
Operating Voltage: 2.7V~3.6V
Operating Temperature: -25°C / 85°C
Storage Chart
 

Digital Photos

Video Recording
 
8 Megapixel1
12 Megapixel2
RAW3
Full HD4
4GB
960 photos
640 photos
274 photos
60 minutes
8GB
1920 photos
1280 photos
548 photos
120 minutes
16GB
3840 photos
2560 photos
1096 photos
240 minutes
32GB
7680 photos
5120 photos
2192 photos
480 minutes
1Based on file size 4MB. 2Based on file size 6MB. 3Based on total size 14MB. 4Full HD Video based on 1920x1080 9Mbps H.264 AVC compression.
Storage capacity approximations are for general reference only. Actual results will vary depending on resolution, compression quality, video frame rate/interlace settings, and content.
Opteka OPT540 54" Compact Professional Photo / Video Tripod
::Brand New :: 1 Year Warranty::
( Click here for full warranty details )
Opteka applied their legendary craftsmanship and state-of-the-art engineering to create their most compact and cost-effective professional tripod to date. The Opteka OPT540 is an ultra compact 54" tripod that folds down to 21" and features a 3-way panhead, quick release plate, vertical platform, spirit level and much more! The OPT540 is compatible with most digital, film or video cameras with a standard 1/4" thread.
Follow the action and keep your horizons true, shot after shot. When you move your camera for a different view, you can reset it level in seconds. No more fussing with blurry pictures or tired arms!
| | |
| --- | --- |
| *  | 3-Way Panhead |
| *  | Quick Release Plate |
| *  | 90 Degree Vertical Platform |
| *  | Spirit Bubble Level |
| *  | Thick 1.13 inch Legs |
| *  | Gear Operated Center Column |
| *  | Reinforced Center Brace with Carrying Handle |
| *  | Lower Bracing System with Locking Feature |
| *  | Quick release Channel Lock Legs |
Material
High-Strength Aluminum
Camera Type
Digital, Film, Video with standard 1/4" thread
Maximum Height
54 inches (137cm)
Minimum Height
21 inches (53cm)
Leg Sections
3
Foot Type
Non-Slip Rubber
Maximum Load
5.75 lbs (2.6kg)
Weight
28 oz (800g)
Includes
Carrying Case with Strap
LP-E8 Canon Equivalent Ultra High 2000mAh Lithium Ion Extended Battery

Works for the following: Canon Digital Rebel T2i (550D) T3i, T4i, T5i
| | |
| --- | --- |
|   | Memory free for maximum performance |
|   | Lithium Ion 7.2v |
|   | Built-in safety fuse |
|   | Top graded and matched cells used exclusively |
|   | State-of-the-art-components |
|   | Brand New |
Opteka MBC-series AC/DC Mono Rapid Battery Charger for Canon LP-E8
The Opteka MBC-series AC/DC Mono Rapid Battery Charger is designed for the Canon LP-E8. Features a LED charging indicator, "Smart Charging" for coded batteries, auto-shutoff feature, 9V DC car adapter and bonus Euro travel plug. The MBC-series charger is versatile and delivers high-performance charging without over-extending your budget.
Rapid Battery Charger
"Smart Charging" compatible with coded batteries
Auto-shutoff to "drip charge" once charging is complete
Dual Universal Voltage 100-240V
LED Charging indicator
Convenient Fold out Prongs On Rear of Unit
Includes a 9V DC car adapter plug lets you charge while on the road
Bonus Euro travel plug adapter included
Opteka Gold Plated High Speed HDMI to Mini-HDMI Cable
A premium quality HDMI- HDMI mini cable. It features gold plated connectors, strain relief and Mylar foil shielding. The cable was constructed using the high quality material for best contact connection between HDMI equipment. Fully HDCP compliant to provide highest level of signal quality. A superb cable with excellent audio-visual transfer properties that deliver signal without compromising purity and balance.
Features:
- Gold-plated connectors for highest signal transfer rate and resistance in corrosion.
- Large gauge PVC jacket provides maximum shielding against wear and tear and extreme temperatures
- Reinforced quad-layer braided shielding and Mylar-foil shielding provides utmost protection against RF and EM interference
- Molded strain-relief design lessens plug/socket pressure
- Designed to meet all HDMI standards Supports 480i, 480p, 720p, 1080i, 1080p, 1440p resolution
- Color: Black / Gold
- Compatible with: HDTVs, HD DVs, Cameras, Game Consoles with HDMI and HDMI Type C Mini Connectors
USB 2.0 SD/SDHC/MMC Flash Memory Card Reader
:: Brand New 1 Year Manufacturer's Warranty ::


The SD/SDHC/MMC memory card reader works perfectly with your desktop or laptop computer. It is compatible with PC & MAC. Ultra slim design and works with USB 2.0. It has a 1 year limited warranty.
Transfer photos/videos/music

Supports SD/SDHC/MMC cards

Ultra Slim Design

Compatible with PC or MAC

High Speed
Opteka Tabletop Tripod & 5 Piece Cleaning Kit
:: Brand New 1 Year Manufacturer's Warranty ::
( Contact us for full warranty details )
With an Opteka 5 piece Lens/Camera cleaning kit it contains everything you need to maintain your Digital Camera! It cleans hard to reach lenses, protects battery contacts, and is very easy and safe to use. Works excellent for lenses, cameras, filters, and it also easily cleans LCD panels. The lens cleaning solution is specially made for removing oil and dirt. The Opteka table top tripod is ideal for backyard observation or anywhere - an ultra-compact tripod is all you need!
Opteka Compact Tabletop Tripod

 
3 inches
 
Rubber feet
 
Allows you to rest your camera on fixed objects with out scratching your camera
 
Opteka 5 Piece Camera/Lens Cleaning Kit
 
Cleans lenses, camera Lenses, and filters
 
Lens cleaning solution - made specially for removing oil and dirt
 
Double pressed micro-fiber cleaning cloth
 
Cleaning tissues
 
Q-Tips
 
Blower brush
Additional Info
Additional Info
| | |
| --- | --- |
| Brand | Canon |
| Name | Canon EOS Rebel T5i DSLR Camera w/ EF-S 18-55mm STM Lens & 16GB Advanced Bundle + FREE Canon EF-S 55-250mm f/4-5.6 IS II Lens |
| SKU | CAN-T5IA-DV_FZL |
| Price | $919.95 |
Reviews