Description
Details
Canon EOS Rebel T3i 600D Digital SLR Camera with Canon EF-S 18-200mm IS Lens + Kit
Canon EOS Rebel T3i 600D Digital SLR Camera Body



Product Highlights
* SD/SDHC/SDXC Memory Card Slot
* 18MP APS-C CMOS Sensor
* DIGIC 4 Imaging Processor
* 3.0" Clear View Vari-Angle LCD
* 100-6400 ISO
* Full HD Movie Mode w/ Manual Exposure
* Compatible with Canon EF and EF-S Lenses
* 3.7 Frames/Second Continuous Shooting
* 63 Zone Dual-Layer Metering / 9-Point AF
* Intelligent Auto Mode

---
Canon EF-S 18-200mm f/3.5-5.6 IS Autofocus Lens


---
Opteka EF-600 DG Super E-TTL II Digital Flash
The Opteka EF-600 DG SUPER is designed to work with Digital SLR cameras, for advanced flash photography. It has a maximum guide number of 148 feet or 45 meter at 85mm focal length (ISO 100).The projection angle of the flashgun is set automatically to match the lens' focal length ranging from 24mm wide-angle to 85mm medium-telephoto. It also incorporates a built-in reflecting plate and diffuser that can be slid out from the top of the flash head for soft lighting effects. The bounce flash head can be tilted 90° upwards and can be swiveled 180° to the left and 90° to the right. In addition, the flash can also be set manually at 6 different power output levels or can be utilized as a wireless slave. The covering focal length of the flashlight can be seen on the LCD panel, and a flash ready signal can be seen in the viewfinder. The EF-600 DG SUPER also incorporates auto power off system.
| | |
| --- | --- |
| - | Bounce & swivel head |
| - | AF Assist |
| | Autofocus auxiliary lamp helps the camera to focus in low-light |
| - | LCD Display |
| | Features an Illuminated LCD panel |
| - | Built in Reflecting Plate and Diffuser |
| | Reduce strong light to create soft lighting effects |
| - | Front and Rear Curtain Synchronization |
| | Useful at slow shutter speeds to give a realistic impression of movement |
| - | Auto Power Off |
| | Battery-saving mode shuts down power after 5 minutes |
Type
Shoe Mount
Guide No.
148' (45 m) at 85mm
AF Illuminator
3.3ft-20ft/1-6m (50mm Lens)
Flash Duration
1/1000 to 1/20,000 second
TTL Dedication
Yes
Bounce Head
Yes
Swivel Head
Yes
Recycle Time
0.5-9 seconds (based on fresh alkaline batteries & full power)
Power Source
Four 1.5-Volt "AA" batteries (alkaline, lithium, Ni-cd & Ni-MH)
Dimensions
72.0 x 100.0 x 125mm WxHxD
Weight
270g (without batteries)
Includes: Opteka EF-600 DG SUPER E-TTL II Shoe Mount Flash (Guide No. 148' (45 m) at 85mm), 1 Year Warranty
---
Opteka 0.20X High Definition Professional Super AF Fisheye Lens


Nothing changes the way you see the world like High Definition, and no company does High Definition like Opteka. In the professional setting, Opteka's glass optics define High Definition. Change the way you view the world. Enjoy outstanding detail, enjoy enhanced clarity, enjoy Opteka.

The new Opteka High Definition .20x Wide Angle Fisheye Converter Lens increases the versatility of your existing lens to provide breathtaking ultra wide angle views. And it's so easy to use! Great for every type of photographic situation!

Opteka lenses put more creative control where it belongs - in your hands.


- 0.20X Professional Super Wide Angle Lens
- High Definition HD Lens
- High-index / low-dispersion optical glass
- Fully multi-coated, every element
- Anti-reflection coating
- High speed auto-focus / Infrared compatible
- Maximize day & night shots by providing maximum light transmission
- Brand new, Lifetime warranty

- Includes - .20x High Definition Fisheye Lens (Direct 52mm Mount), 55mm Ring, 58mm Ring, Lens Caps, and Pouch.


Video taken with Opteka Super Wide Fisheye Lens (Credit: marioascierto83)
---
Opteka .5x Ultra High Definition Professional Wide Angle Lens for Digital Video Cameras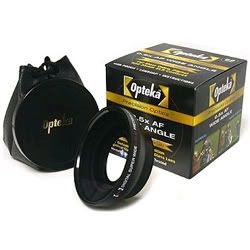 Opteka lenses stand up to the most rigorous demands on the stage and on location. Opteka's hard anti-reflective (AR) coating offers protection specially formulated to resist flaking, peeling and scratching. This proprietary AR coating also reduces light loss and flare to less than 1% per surface, compared to untreated glass which has a light loss of 4% per surface.

Opteka lenses are manufactured using state-of-the-art processing technology and their unique evaluation system on the aspheric profile.

Your pictures are only as good as the glass in your lens.

Advances in ultra high-index / low-dispersion optical glasses, new barrel materials, and exotic anti-reflection coatings, along with the latest in computer-aided-design / computer-aided-manufacturing, are combined to produce lenses of unprecedented quality. Diamond-cut from crystal-clear, water-white optical glass, Opteka lenses are ground and polished to a precise precision.

Opteka lenses allow you to shoot with total confidence.

Because all Opteka lenses are designed and manufactured with the highest possible degree of consistency, you can swap lenses mid-shoot with no discernable variation in color or effect. The unprecedented purity, color saturation and repeatability of Opteka lenses virtually eliminate the need for lab color timing corrections caused by other filters. This puts more creative control where it belongs... in your hands.


- .5x ultra high definition professional wide angle lens
- The only true 7 element / 5 group digital lens
- High-index / low-dispersion optical glass
- Fully multi-coated, every element
- HEAR: (High Efficiency Broad-Band AR Coating)
This multi-layer broadband anti-reflection coating is used in
visible display applications for contrast enhancement and glare reduction.
- Titanium anodized finish
- Full panoramic capability
- High speed auto-focus / Infrared compatible
- Designed to maximize day and night shots by providing maximum light and image transmission
- Fantastic for all types of photographic situations
- 62mm rear threads; Adapter Rings Included
- Made and designed in Japan
- Built-in macro lens for extreme close-up shots
- Lens bag, lens covers, and instructions included
- Brand new, Lifetime warranty
---
(2x) Ultra High Capacity Replacement for the Canon LP-E8 Battery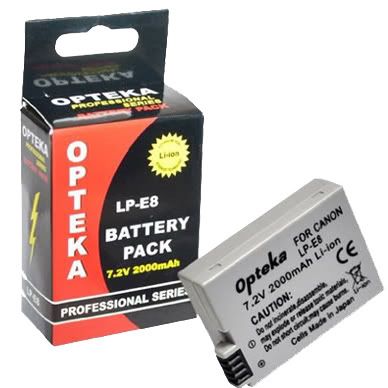 - Lithium-Ion 2000mAh
- Replacement for Canon LP-E8 Battery
- Rechargable Ultra High Capacity
- 2 Year Warranty
- 100% Brand New & factory Sealed

---
1 Hour Rapid Charger 110-220 Volt



- Rapid Charger (1 Hour)
- 110-220 Volt For Worldwide Use (Includes European Adapter)
- Includes DC Car Plug

---
VIDPRO Courier CR-325 Large Digital Camera Carrying Case


The Courier CR-325 is a camera bag made of water resistant fabric. It is a perfect carry-on case for SLRs, point and shoot cameras, and accessories alike.
---
3 Piece High Definition II Pro Filter Kit ( UV, PL, FLD )




Advances in low-dispersion optical glass and exotic anti-reflection coatings, along with the latest in computer-aided manufacturing are combined to produce lenses of unprecedented quality. The results are lenses of remarkable quality and durability at remarkably affordable prices.

Your pictures are only as good as the glass in your lens.

Change the way you view the world. Enjoy outstanding detail and enhanced clarity.


- UV Filter
A must for any camera. Penetrates haze, adds warmth, and protects your valuable lens from scratches, dirt, fingerprints, etc. Leave it on your lens at all times.
- Polarizing Filter
For shooting in bright sun, at beaches, snow, etc. Controls bright light entering lenses for a better balanced color image. Darkens blue skies and reduces reflections from non-metallic surfaces.
- Fluorescent Filter
Reduces the greenish cast common to fluorescent lighting and produces pleasing, natural results, particularly in flesh tones.
| | |
| --- | --- |
| - | Carrying Case Included |
| - | Brand new, Lifetime Warranty |
---
8GB SDHC Memory Card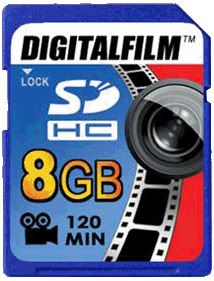 Versatile. Available in a wide range of capacities to meet a range of needs. Compatible. Works easily with a variety of SD HC-compatible devices. Exceptional value. Users can maximize their storage at an affordable price. 5 year warranty. Exceptional quality.
---
USB 2.0 SD/SDHC/MMC Flash Memory Card Reader




The SD/SDHC/MMC memory card reader works perfectly with your desktop or laptop computer. It is compatible with PC & MAC. Ultra slim design and works with USB 2.0. It has a 1 year limited warranty.

Transfer photos/videos/music
Supports SD/SDHC/MMC cards
Ultra Slim Design
Compatible with PC or MAC
High Speed
---
Davis & Sanford Traveler Tripod




Davis & Sanford Traveler Tripod Maximum Load - 4 lbs. Minimum operating height - 20 Folded Length - 21 Weight - 2 lbs. Includes Soft sided woven tripod bag


Pan/tilt operation
Easy flip-lever telescoping legs
Leg brace for increased stability
Works with cameras and camcorders
---
Opteka Gold Plated High Speed HDMI to Mini-HDMI 6" Cable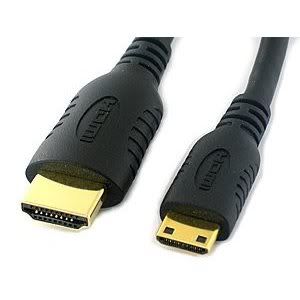 A premium quality HDMI- HDMI mini cable. It features gold plated connectors, strain relief and Mylar foil shielding. The cable was constructed using the high quality material for best contact connection between HDMI equipment. Fully HDCP compliant to provide highest level of signal quality. A superb cable with excellent audio-visual transfer properties that deliver signal without compromising purity and balance.

Features:
- Gold-plated connectors for highest signal transfer rate and resistance in corrosion.
- Large gauge PVC jacket provides maximum shielding against wear and tear and extreme temperatures
- Reinforced quad-layer braided shielding and Mylar-foil shielding provides utmost protection against RF and EM interference
- Molded strain-relief design lessens plug/socket pressure
- Designed to meet all HDMI standards Supports 480i, 480p, 720p, 1080i, 1080p, 1440p resolution
- Color: Black / Gold
- Length: 2 M / 6.56 FT
- Compatible with: HDTVs, HD DVs, Cameras, Game Consoles with HDMI and HDMI Type C Mini Connector
---
LCD Screen Protectors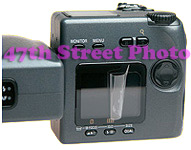 Protect your camera's delicate LCD Screen from scratches and eliminate glare with these LCD Sceen Protectors. Replace sheets in mere seconds thanks to the textured screen surface that adheres instantly to your screen.

---
Opteka Tabletop Tripod & 5 Piece Cleaning Kit



With an Opteka 5 piece Lens/Camera cleaning kit it contains everything you need to maintain your Digital Camera! It cleans hard to reach lenses, protects battery contacts, and is very easy and safe to use. Works excellent for lenses, cameras, filters, and it also easily cleans LCD panels. The lens cleaning solution is specially made for removing oil and dirt. The Opteka table top tripod is ideal for backyard observation or anywhere - an ultra-compact tripod is all you need!
Additional Info
Additional Info
| | |
| --- | --- |
| Brand | Canon |
| Name | Canon EOS Rebel T3i SLR w/ EF-S 18-200mm IS Lens + Kit |
| SKU | CAN-T3IW18200KIT8GB |
| Price | $1,199.98 |
Reviews