Description
Details
Canon EF 70-200mm f/2.8L IS II USM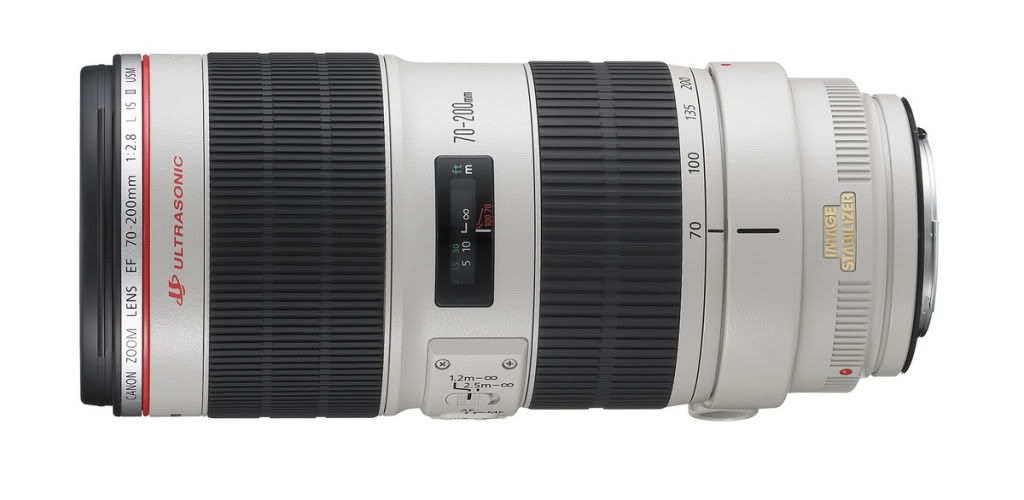 Improving upon one of the most celebrated lenses in the Canon EF line is no easy feat, but Canon has done just that. The all-new EF 70-200mm f/2.8L IS II USM increases the speed, performance and optical quality of the EF 70-200 f/2.8L IS USM while maintaining all of the characteristics that have made it a legend for professionals and advanced amateurs alike. The EF 70-200mm f/2.8L IS II USM features one fluorite and five UD elements for increased optical quality and reduced chromatic aberration. It has a minimum focusing distance of 1.2m/3.9 ft. at all zoom settings, which is useful for photographers in smaller spaces trying to get closer to a subject. It features a next-generation Optical Image Stabilizer, providing up to 4 stops of correction at all focal lengths. And as with all L-series lenses, the EF 70-200mm f/2.8L IS II USM is dust- and moisture-resistant and designed for use in the challenging environments typical of rigorous professional use.
5 Year CPS Accidental Extended Service Contract
The CPS Accidental Extended Service Contract provides 5 Extra Years of protection beyond what ordinary service contracts give. When you're on vacation and your camera is accidentally dropped, most extended service contracts will not cover the loss, but this one does - The Accidental from CPS protects your equipment with the type of coverage you need in case your equipment is damaged by water or accidentally dropped. This Extended Service Plan offers you the identical high quality protection as the manufacturer's written warranty did. This plan extends your coverage for up to 5 (five) full years after the manufacturer's written warranty expires.

Opteka High Definition² Professional 5 Piece Filter Kit (UV, CPL, FL, ND4 and 10x Macro Lens)
Advances in low-dispersion optical glass and exotic anti-reflection coatings, along with the latest in computer-aided manufacturing are combined to produce lenses of unprecedented quality. Rather than raising the cost of Opteka filters however, these advanced materials and techniques allow more efficient and economical production. The results are lenses of remarkable quality and durability at remarkably affordable prices.
Your pictures are only as good as the glass in your lens.
Nothing changes the way you see the world like High Definition² and no company does High Definition² like Opteka. Opteka's glass optics define High Definition. Change the way you view the world. Enjoy outstanding detail, enjoy enhanced clarity, enjoy Opteka.
UV Filter
A must for any camera. Penetrates haze, adds warmth, and protects your valuable lens from scratches, dirt, fingerprints, etc. Leave it on your lens at all times.
Polarizing Filter
For shooting in bright sun, at beaches, snow, etc. Controls bright light entering lenses for a better balanced color image. Darkens blue skies and reduces reflections from non-metallic surfaces.
Fluorescent Filter
Reduces the greenish cast common to fluorescent lighting and produces pleasing, natural results, particularly in flesh tones.
Neutral Density ND4 Filter
Enables slow shutter speeds to be used, especially with high speed films, to record movement in subjects such as waterfalls, clouds, or cars. Decreases depth of field by allowing wider apertures to be used, which helps separate subjects from their background.
10X Macro Filter
Now you can take close-up shots like you never took before, Enables you to get much closer than the minimum focus of the standard camera lens - as close as 4 inches from the subject. Originally designed for dentists and medical use. Made with high definition optical glass that provides unbelievable detail. .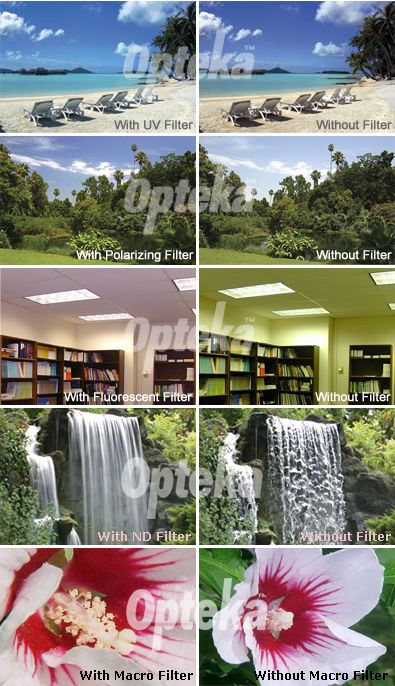 | | |
| --- | --- |
| | Carrying Case Included |
| | Brand new, Lifetime Warranty |
Opteka Tabletop Tripod & 5 Piece Cleaning Kit
With an Opteka 5 piece Lens/Camera cleaning kit it contains everything you need to maintain your Digital Camera! It cleans hard to reach lenses, protects battery contacts, and is very easy and safe to use. Works excellent for lenses, cameras, filters, and it also easily cleans LCD panels. The lens cleaning solution is specially made for removing oil and dirt. The Opteka table top tripod is ideal for backyard observation or anywhere - an ultra-compact tripod is all you need!
Opteka Compact Tabletop Tripod

3 inches
Rubber feet
Allows you to rest your camera on fixed objects with out scratching your camera
Opteka 5 Piece Camera/Lens Cleaning Kit
Cleans lenses, camera Lenses, and filters
Lens cleaning solution - made specially for removing oil and dirt
Double pressed micro-fiber cleaning cloth
Cleaning tissues
Q-Tips
Blower brush
Additional Info
Additional Info
| | |
| --- | --- |
| Brand | Canon |
| Name | Canon EF 70-200mm f/2.8L IS II USM w/ 5 Yr and Extras |
| SKU | CN70200LISIIKIT |
| Price | $2,649.95 |
Reviews