Description
Details
Transcend 64GB SDHC Class 10 Memory Card
Featuring data transfer speeds of up to 20MB/s, Transcend's "Ultimate" series Class 10 SDHC cards provide an impressive level of performance for high-megapixel digital cameras and Full-HD camcorders. With up to 17MB/s write speed, these cards provide enhanced camera response for high-speed consecutive shooting as well as smooth Full HD video recording.
Class 10 speed rating guarantees fast and reliable write performance
Transfer speeds up to 20MB/s read and 17MB/s write
Excellent compatibility with both point-and-shoot and DSLR digital cameras
Fully compliant with the SD 3.0 standard
Limited Lifetime Warranty
Fully compatible with SD 3.0 Standards
SDHC Class 10 compliant
A minimum read/write speed of 10MB/s
64GB High Capacity
Compatible with all SDHC-labeled host devices (not compatible with standard SD)
Easy to use, plug-and-play operation
Built-in Error Correcting Code (ECC) to detect and correct transfer errors
Complies with Secure Digital Music Initiative (SDMI) portable device requirements
Supports Content Protection for Recordable Media (CPRM)
Allows In System Programming (ISP) for updating firmware
Supports auto-standby, power-off and sleep modes
Mechanical write-protection switch
RoHS compliant
Opteka Microfiber Deluxe Photo / Video Camera Gadget Bag for Digital Cameras & Camcorders
Brand New - 5 Year Warranty
The shockproof / waterproof Opteka microfiber case holds cameras and camcorders with midrange zoom lens, extra lenses and accessories. Features 9" main compartment, plus 2 side pockets, zippered mesh pocket in lid, front zippered accessory pocket with 4 internal pockets, and 2 customizable interior divider. Nice contoured and padded detachable shoulder strap with fast-grip surface, and convenient carry handle.
Ultra water-resistant material
Material: Microfiber
Color: black
Size: 8.75" x 7" x 5"
Linear Inches: 20.75"
Zippered top for maximum security
Zip-front pocket for accessory storage
Zippered side pockets for extra storage
High density foam padding
Customizable divider
Adjustable shoulder strap
Includes 5 Year Warranty
Opteka VL-5 Ultra High Power 36 LED Digital Camera / Camcorder Expandable Video Light with Battery
The Opteka VL-5 Pro LED Video Light guarantees that you'll achieve the perfect ambient lighting for every video shoot. The VL-5 features 36 individual LED lights that yield a brightness of 600 lumens. It's compatible with all camcorders with an accessory shoe and the included Sony adapter fits all active interface hot shoe camcorders. The VL-5 has a removable LI-40B lithium rechargeable battery, which is charged via the included AC adapter.
Fits all standard hot/cold shoes; Sony AIS shoe adapter also included
Advanced white light (6000k) 36 LED lighting system is 50x brighter than average bulbs (600 lumens)
Mounts to all cameras (Canon, Nikon, Olympus, Sony, Pentax, ect) with a standard hot shoe or any Sony / Panasonic mini-shoe (adapter included)
Interlock system allows multiple lights or microphones to stack
Li-40B lithium rechargeable battery provides up to 60 minutes of continuous lighting
Includes removable rechargeable lithium battery and AC charger

Lamp type: 36 LED

Brightness: 600 Lumens
Effective Range: 15-25' (4.6-7.6m)
Power Source: Opteka LI-40B lithium ion rechargeable battery
Charging Source: Opteka AC battery charger
Weight: 2.29 oz (65g)
Dimensions: 2.8" X 2.4" X 1.2" (72.8mm X 60.1mm X 131.4mm)
Stackable: Yes
1 Year Limited Warranty
Opteka VM-8 Directional Mini-Shotgun Microphone for DSLR Cameras and Camcorders
The Opteka VM-8 Directional Mini-Shotgun Microphone is an affordable, broadcast quality microphone designed for use with DSLR's with a 3.5mm jack. The VM-8 delivers high quality audio while leaving a small footprint leaving it out of view on your camera's hot/cold shoe. Its integrated shock mount and windscreen along with the unidirectional design greatly improves the audio on DSLR cameras while reducing unwanted noise from your audio. Features Broadcast-Quality Mic Unidirectional Condenser microphone Integrated Shock Mount and Windshield Reinforced PC+ABS construction Integrated cold-shoe mount 1.5V AAA battery Specifications Transducer Condenser Directional Pattern Unidirectional Frequency Range 38Hz - 20,000Hz Sensitivity -40dB+ 2dB re 1V/Pa @ 1kHz Output impedance 1k Ohm or less Signal to noise ratio 75dB or more Power 1.5V AAA battery Dimensions 109mm (L) x 75mm (H) x 18mm (D) Output Connection 3.5mm mini-jack Net Weight 62g Frequency Response Polar Pattern
60-Inch Pro Series Full Size Camera/Video Tripod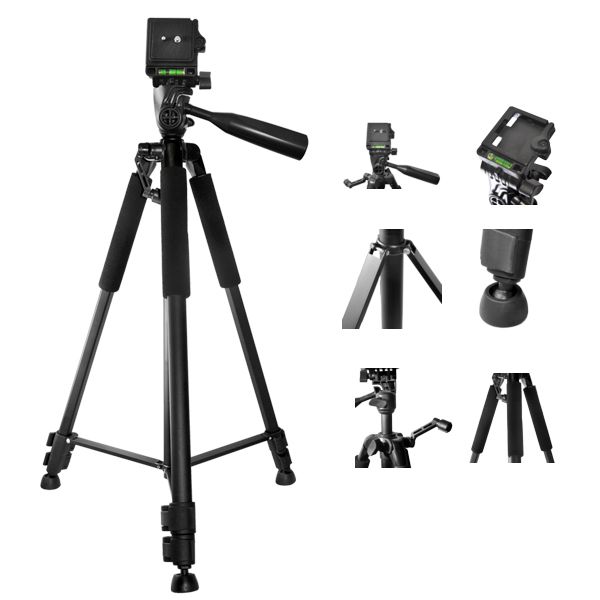 This 60" tripod is perfect for both video and still cameras. It features foam padded upper legs and has a quick release plate for easy removal of your camera. It has non-slip swivel feet and one bubble level indicator. It comes with a convenient carrying case. It has 3-section aluminum alloy legs and a 3-way pan head and a heavy duty center pole bracket. It expands to 60" in height and collapses down to 22.5". It has an easy crank handle for the adjustable center pole. 10 year limited warranty.
Opteka X-GRIP Professional Camera / Camcorder Action Stabilizing Handle with Accessory Shoe for Flash, Mic, or Video Light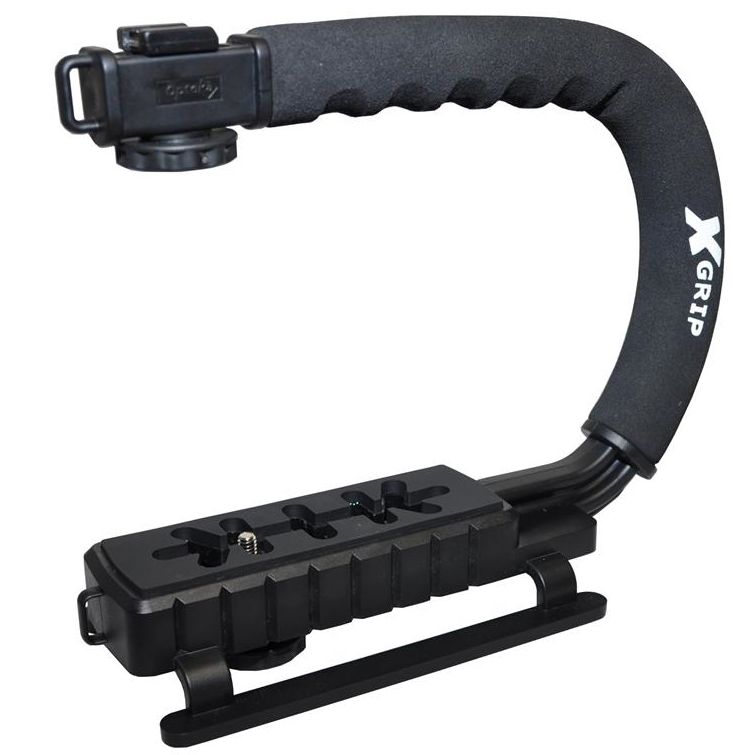 The Opteka X-GRIP handle can be used by both a professional or amateur user. This incredible support offers stability and control. The hot shoe attachment enables you to add a video light or flash. Extremely useful product for skateboarding and other extreme sports.
Fits most compact cameras and camcorders with a standard 1/4-20 thread
Cushioned NBR padded handle alleviates the stress of lengthy filming
High-grade ABS impact-absorbent plastic
Non-slip rubber rails
Shoe mount (removable) for video lights, flashes, or microphones
Max camera height: 4.75" (120mm)
Dimensions: 8.25" X 9.75" X 3.50" HxLxW (209mm X 247mm X 89mm)
Weight: 12.2 oz (345g) without devices
1 Year Opteka Warranty
Opteka MBC-series AC/DC Mono Rapid Battery Charger
The Opteka MBC-series AC/DC Mono Rapid Battery Charger is designed for select camera and camcorder batteries. Features a LED charging indicator, "Smart Charging" for coded batteries, auto-shutoff feature, 9V DC car adapter and bonus Euro travel plug. The MBC-series charger is versatile and delivers high-performance charging without over-extending your budget.
Rapid Battery Charger
"Smart Charging" compatible with coded batteries
Auto-shutoff to "drip charge" once charging is complete
Dual Universal Voltage 100-240V
LED Charging indicator
Convenient Fold out Prongs On Rear of Unit
Includes a 9V DC car adapter plug lets you charge while on the road
Bonus Euro travel plug adapter included
Vivitar BP-718 BP718 Extended 2300mAh Lithium Ion Battery
This is a replacement battery for Canon BP-718. It features lithium technology, which ensures maximum battery life and maximum power. It also features no memory effect that lets you recharge partially drained batteries without reducing performance. Beware of low quality knockoffs on eBay, they can often damage your camera. Opteka Batteries are Guaranteed.
Works with: Canon VIXIA HF R32 HFR32 R30 HFR30 R300 HFR300
USB 2.0 SD/SDHC/MMC Flash Memory Card Reader

The SD/SDHC/MMC memory card reader works perfectly with your desktop or laptop computer. It is compatible with PC & MAC. Ultra slim design and works with USB 2.0. It has a 1 year limited warranty.
Features:
Transfer photos/videos/music
Supports SD/SDHC/MMC cards
Ultra Slim Design
Compatible with PC or MAC
High Speed
Opteka FB-1000 Straight Metal Flash Bracket for Compact Digital & Film Cameras
The Opteka FB-1000 Straight Flash Bracket is a metal flash bracket that features a sliding 1/4"-20 camera screw to allow for variable positing of the flash or other accessory at the camera's side. The flash shoe accepts a shoe mount type flash and has a tripod socket.
Durable Metal Construction
6 inches long
Built-in Tripod Socket
Reduces flash-shadows
1 Year Opteka Warranty
Opteka Hot Shoe Three Axis Triple Bubble Spirit Level for Digital and Film Cameras
Simply slide into your hot-shoe for easy setup of level landscape or vertical format shots. Tubular style allows tilting of camera vertically and keeping horizontal level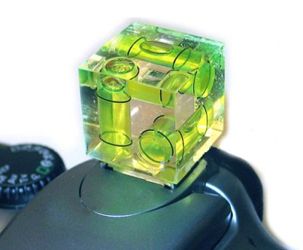 Beautiful crystal clear housing slips on a camera shoe mount or tripod thread.
Acrylic, molded triple-tube bubble level with green fluid
Opteka Digital Camera / Camcorder Lens Cleaning Kit, Tabletop Tripod, & LCD Screen Protectors
With an Opteka 5 piece Lens/Camera cleaning kit it contains everything you need to maintain your Digital Camera! It cleans hard to reach lenses, protects battery contacts, and is very easy and safe to use. Works excellent for lenses, cameras, filters, and it also easily cleans LCD panels. The lens cleaning solution is specially made for removing oil and dirt. The Opteka table top tripod is ideal for backyard observation or anywhere - an ultra-compact tripod is all you need!
Opteka Compact Tabletop Tripod
3 inches
Rubber Feet
Allows you to rest your camera on fixed objects without scratching your camera.
Opteka 5 Piece Camera/Lens Cleaning Kit
Cleans lenses, camera Lenses, and filters
Lens cleaning solution - made specially for removing oil and dirt
Double pressed micro-fiber cleaning cloth
Cleaning tissues
Q-Tips
Blower brush
47 Street Photo Microfiber Cleaning Cloth
Remove smudges and fingerprints without scratching your screen. Small and compact enough to carry around anywhere you go. Cleaning cloth for your electronics. Removes dust, dirt and fingerprints. Electronic devices look like new and to keep them dirt and dust free. Picks up dust and dirt. High quality microfiber material will not leave any fabric on your devices.
$50 Gift Card for Online Digital Prints
To redeem your gift Card:
1. Go to the Link Provided on the Card
2. Sign up for a free account
3. Download the free ROES ordering software
4. Type in your promo code in review order screen
***This is valid for new customers only. Valid for one use only, one per account. Not valid on any other offer***
Additional Info
Additional Info
| | |
| --- | --- |
| Name | Advanced Accessories Kit for Canon VIXIA HF R32 HFR32 R30 HFR30 R300 HFR300 |
| SKU | BP718-ACC-KIT3_2 |
| Manufacturer | N/A |
| Price | $139.99 |
| Brand | Opteka |
| Color | N/A |
Reviews