Description
Details
The high-capacity Opteka LP-E8 rechargeable lithium-ion 2000mAh battery is a replacement for Canon LP-E8 Battery. It features lithium technology, which ensures maximum battery life and maximum power. It also features no memory effect that lets you recharge partially drained batteries without reducing performance. Beware of low quality knockoffs on eBay, they can often damage your camera. Opteka Batteries are Guaranteed.
Works for the following: Canon Digital Rebel T2i (550D), T3i
| | |
| --- | --- |
| • | Ultra high power * True * 2000mAh |
| • | Extended shots - Up to 25% more |
| • | Memory free for maximum performance |
| • | Lithium Ion 7.2v |
| • | Built-in safety fuse |
| • | Top graded and matched cells used exclusively |
| • | State-of-the-art-components |
| • | Brand New |
| • | 2 Year performance warranty |
8GB SDHC High Speed Memory Card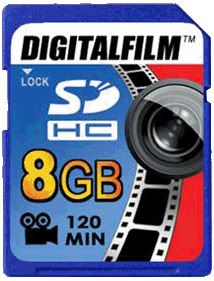 Versatile. Available in a wide range of capacities to meet a range of needs. Compatible. Works easily with a variety of SD HC-compatible devices. Exceptional value. Users can maximize their storage at an affordable price. 5 year warranty. Exceptional quality.
Opteka Gold Plated High Speed HDMI to Mini-HDMI 6' Cable
A premium quality HDMI- HDMI mini cable. It features gold plated connectors, strain relief and Mylar foil shielding. The cable was constructed using the high quality material for best contact connection between HDMI equipment. Fully HDCP compliant to provide highest level of signal quality. A superb cable with excellent audio-visual transfer properties that deliver signal without compromising purity and balance.
Features:
- Gold-plated connectors for highest signal transfer rate and resistance in corrosion.
- Large gauge PVC jacket provides maximum shielding against wear and tear and extreme temperatures
- Reinforced quad-layer braided shielding and Mylar-foil shielding provides utmost protection against RF and EM interference
- Molded strain-relief design lessens plug/socket pressure
- Designed to meet all HDMI standards Supports 480i, 480p, 720p, 1080i, 1080p, 1440p resolution
- Color: Black / Gold
- Length: 2 M / 6.56 FT
- Compatible with: HDTVs, HD DVs, Cameras, Game Consoles with HDMI and HDMI Type C Mini Connectors
Additional Info
Additional Info
| | |
| --- | --- |
| Brand | Opteka |
| Name | 8GB SD Card, Battery + Mini HDMI for Canon EOS T2i |
| SKU | T2iBASIC_2 |
| Price | $32.95 |
Reviews